It seems like everyone these days is on some kind of social media network. Is your business one of them?
The beauty of having your business on social media is that your message can reach tons of people at once. It can take a while to build up your network, but with consistency and efficient planning, you're sure to be successful in audience engagement!
So how do you get so many followers? And how do you get them to pay attention to your message?
Engagement is key to growing on social media, and here I've written 7 ideas for engaging posts that will work!
Product spotlights
Dedicate a post to a specific product that you carry and write about its awesome features! Here's an example of a product spotlight I wrote for A Maze N Fun: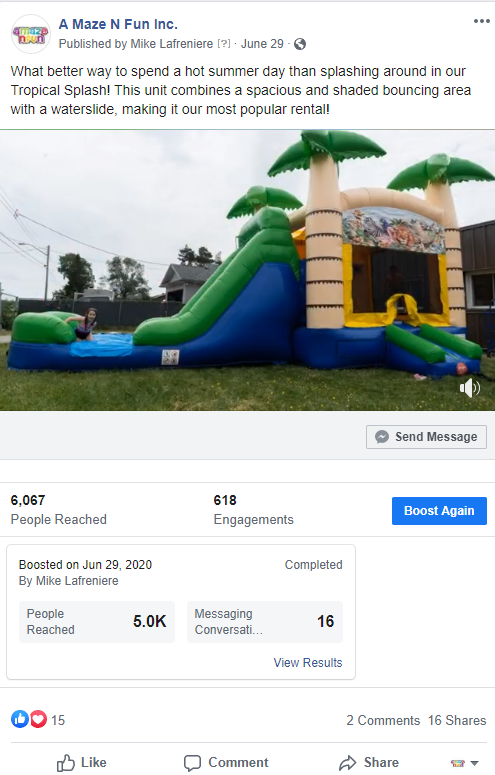 In this post, I left out some details such as the price and the length of the rental. A product spotlight post doesn't give out too much information; instead, it acts as a teaser and generates curiosity. This encourages readers to reach out to you and ask for more information!
Employee spotlights/shoutouts
Let your followers get to know you on a personal level! Putting a face to your business helps build credibility and trust. Post a fun photo of an employee and write some cool facts about them, their hobbies/interests, how long they've worked for your company, why they love working for your company, etc.!
If you take part in "employee of the month," post about it! Show off your employee of the month and discuss all the great things that employee has accomplished.
Testimonials
Testimonials are another great way to build credibility for your business. It's best to include testimonials that focus on something specific about your services rather than one that's too general. Make up a quick graphic to go along with the writing to help create a visual appeal! Here's one we did for Todd Vision Centre: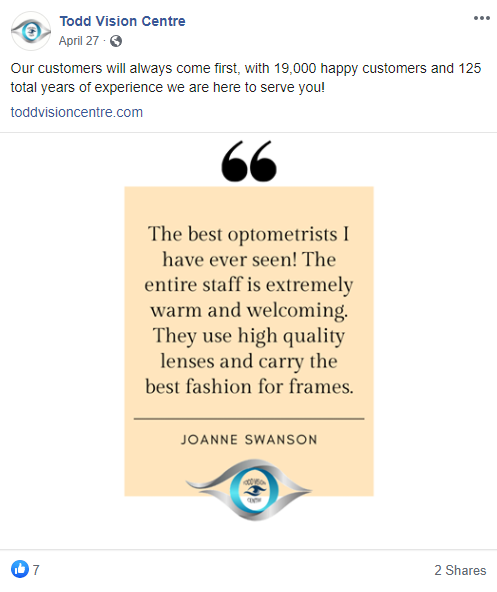 If you include something too simple, such as "great service," or "I recommend this business," readers may get the impression that the testimonial is fake. Pick a testimonial that is short and specific; this is a lot more believable! Positive reviews are sure to increase your exposure and your conversions. When readers see that others have had a positive experience working with you, they'll feel that they'll also have a positive experience when they receive your services.
Facts of the day
Entertain your audience by providing some fun facts about your field of work! These can be short and straight to the point, or contain a few details explaining the fact. Remember not to write too much, however, since you want to maintain the reader's attention. I aim to post one fun fact of the day every month with Todd Vision Centre. Here's an example: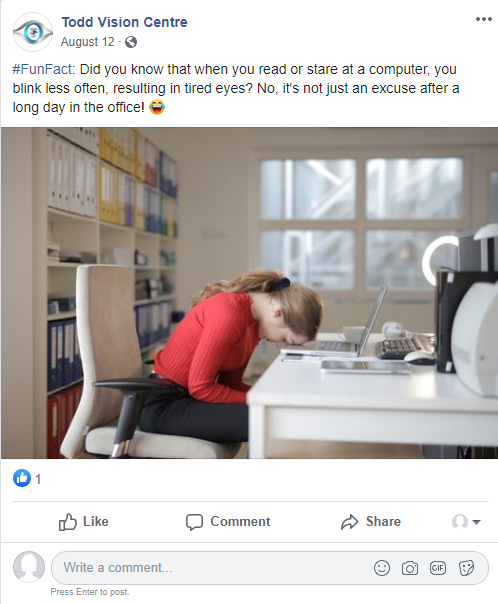 Jokes/puns
Who doesn't love a good joke or pun? Find one relating to your field of work, whip up a quick graphic to go with it, and post it! Readers will be able to get in touch with your awesome sense of humour!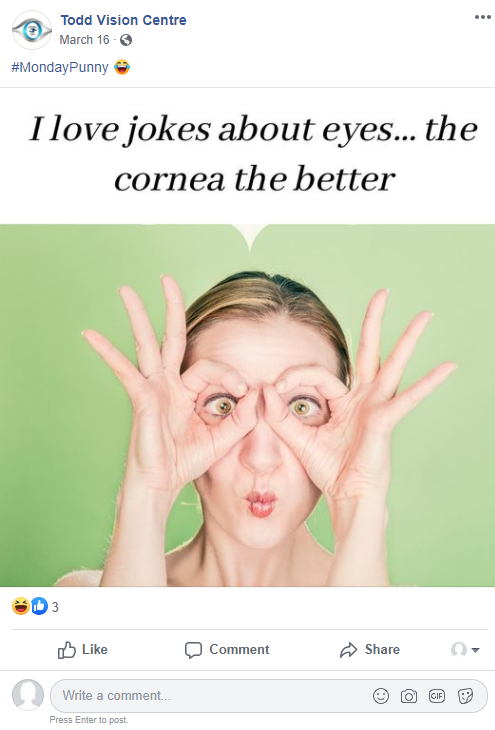 How-to posts
Informative how-to posts can help answer any common questions a reader may have about your product. Brief, step-by-step instructions or advice presented in point form will help maintain your reader's attention. For example, some how-to posts I might write for Todd Vision Centre are "how to properly clean your glasses," or "how to prevent your lenses from fogging up when wearing a mask."
Sneak peeks/behind the scenes
Have a new product in the works? Working on something cool? Show it off on your social media pages! These types of posts give the reader insights into how your business operates and can pique their curiosity when it comes to new products.
With these ideas in mind, you'll be sure to step up your social media game in no time! Keeping your posts engaging and relevant is key to social media success, and as you continue to post consistently, you'll maximize your exposure and reach tons of new customers. Happy planning!