Art & design is reflective of our world's civilizations and trends are forever changing, as is our economic, political, and cultural structures. We refine design to solve various issues, blend form and function, and communicate with each other in more efficient ways, whether it be mobile phones, prosthetic limbs or furniture. Examples of evolution from one decade to the next are blatantly apparent everywhere you look, across numerous creative sectors like industrial design, interior design, architecture, fashion, video games, packaging and landscape. But what we'll talk about is change in graphic design; my field of study, which I can go on & on about, but I'll keep it brief.
Branding
A very early example of branding is when people branded their livestock or artisan merchandise to indicate ownership or quality assurance in ancient times. Even animals have naturally adapted to brand themselves in patterns or bright colours to spur instant recognition as a warning of toxicity (like coral snakes), a signal of health to attract mates (like male peacocks) or to mimic the surroundings for survival (like stick insects). Now the concept of brands migrated from products and companies to virtually everything – universities, museums, hospitals, musical groups, restaurants, governmental agencies, geographic regions, countries, religions, etc. Corporations like P&G and Kellogg's grasp the value of brands as assets and manage them at senior levels in their organizations, so a logo must look professional because it serves as a symbol for all it stands for. A badge of honour.
Now brands have expanded their focus and are more aligned with the social values shared with target consumers as a strategy to drive sales based on crowdsourced ratings thanks to the rise in AI technologies. A smart trademark focuses on solidifying emotional connections with customers while minimizing the distractive decorations, and barely changes its timeless look through the years – a logo is an iconic and credible identity in an ever-changing world of mass marketing. Logos have therefor become simplified and often geometric in design, appearing less hand-drawn, while using fewer colours and even cropping letters for immediate identification. Take a look at the development of these well-known labels as they persist to remain recognizable in these trends through the years: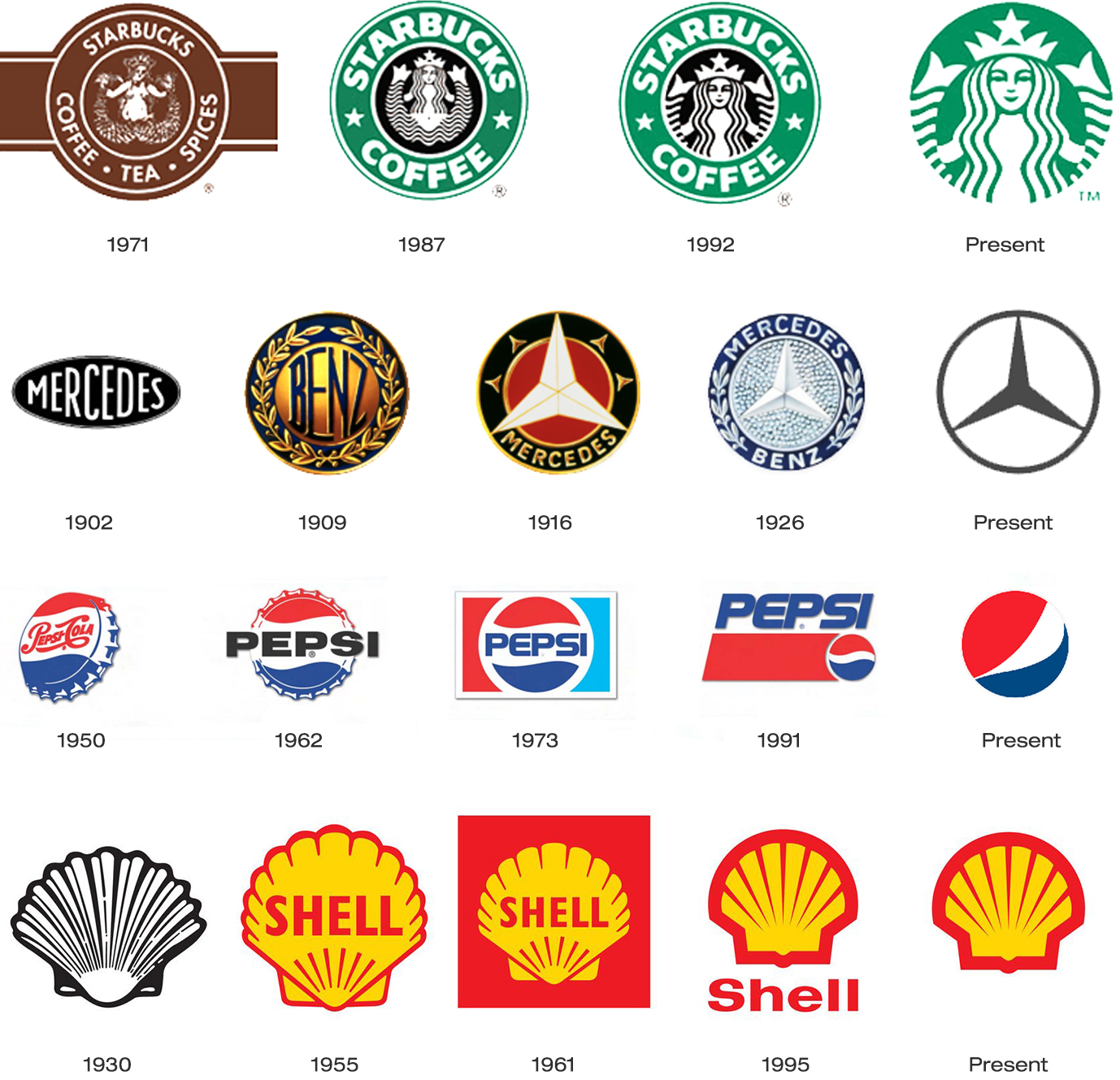 Illustration
The origins of illustration – prior to the invention of "writing" – date back to cave paintings when paleolithic artists used charcoal and ochre to illustrate what they saw around them. These crude but vivid charcoal drawings survived because of their remote existence. Most of the others, created during Classical Antiquity and the Dark Ages were less fortunate, and have since been destroyed. A notable exception was the series of Egyptian illustrations discovered in the tombs of the Pharaohs. In China and Japan, the earliest forms of illustration were created using woodcuts. We've come a long way in illustration, but sometimes we'll see old trends return from the dead, so let's take a look at the past century.
One of the first international design movements was Art Deco in the 20's, a style defined by clean, geometric lines and luxurious materials and colors. First emerged in France but quickly growing in popularity, this movement resulted in some of the most glamorous buildings, interiors and artworks the world has ever seen. Illustrators focussed their efforts on giving a sense of movement and scale to their designs. 3D-style gradients and textures also became popular, helping poster work feel immersive and larger than life. The glamour of flapper girls, exotic travel, and new food and drink dominated illustration in billboards, enticing viewers to dance the Charleston or buy Coca-Cola.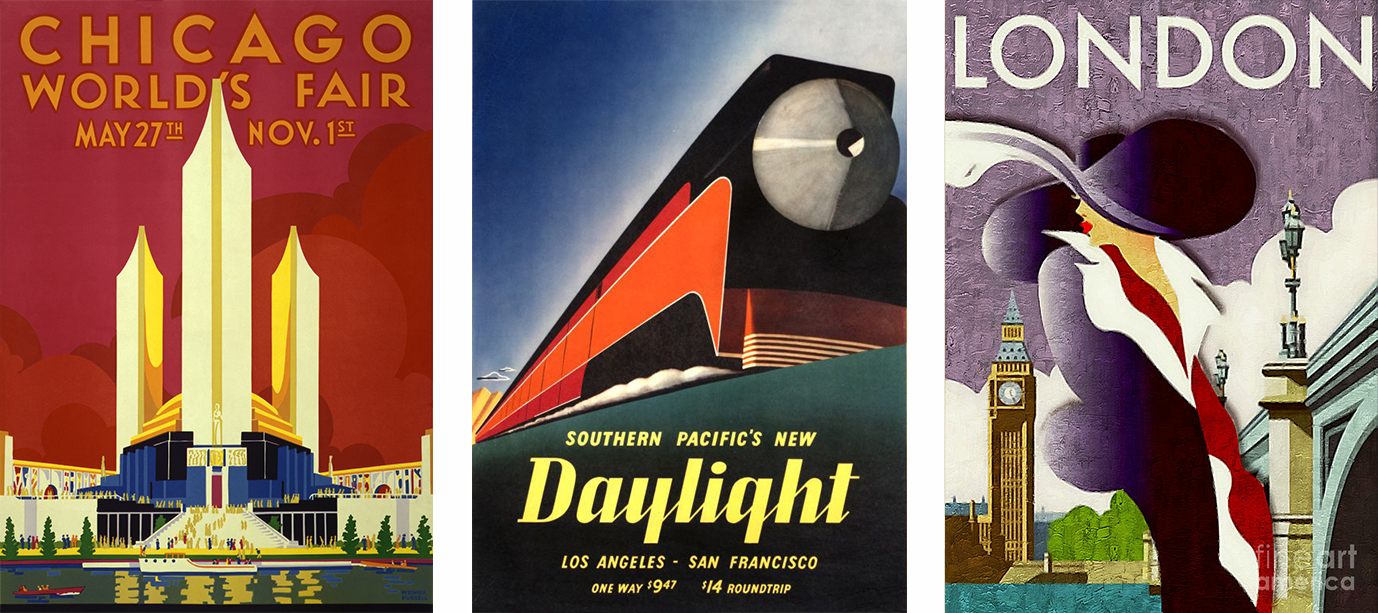 Propaganda posters in times of war in the 40's had a prominent theme of patriotism with in-your face slogans and fine arts imagery to recruit men in the armed forces. Representation in shows like I Love Lucy made women out to be second to men and lived to serve them as housewives, which was represented in graphic design. Women's roles were limited, and they were often forced back into the kitchen- even though they were asked to leave their homes during the war in order to work and help the war effort. Once the men came home they were all expected to resume their "usual" positions.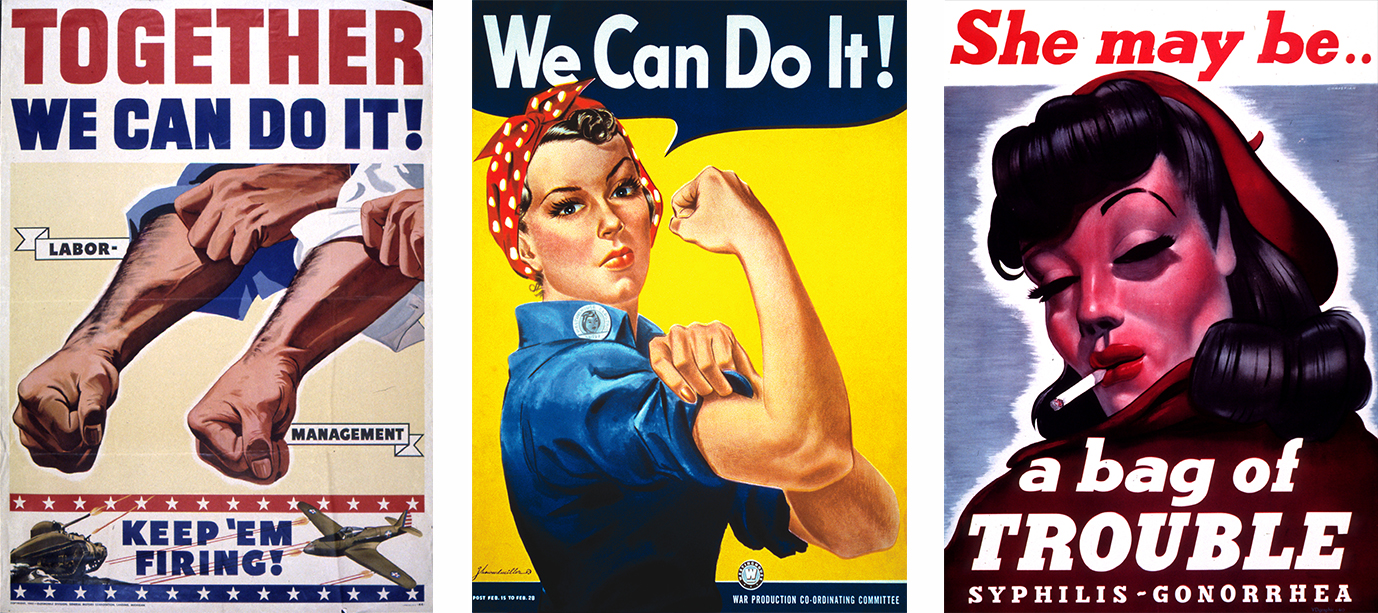 The 50's brought an increase of sex in advertising , especially with the publication of the first issue of Playboy magazine, to sell anything from cigarettes to socks. There was an overall theme of "happy, beautiful people" in advertising, so if there happened to be a product that a sexy pinup girl couldn't sell, a smiling family around a dinner table seemed to do the trick. There was a lot of earth tones, pastel ice-cream colours and playful patterns. Nowadays, we mostly view sex as a cheap marketing tactic that lacks creativity and thoughtfulness.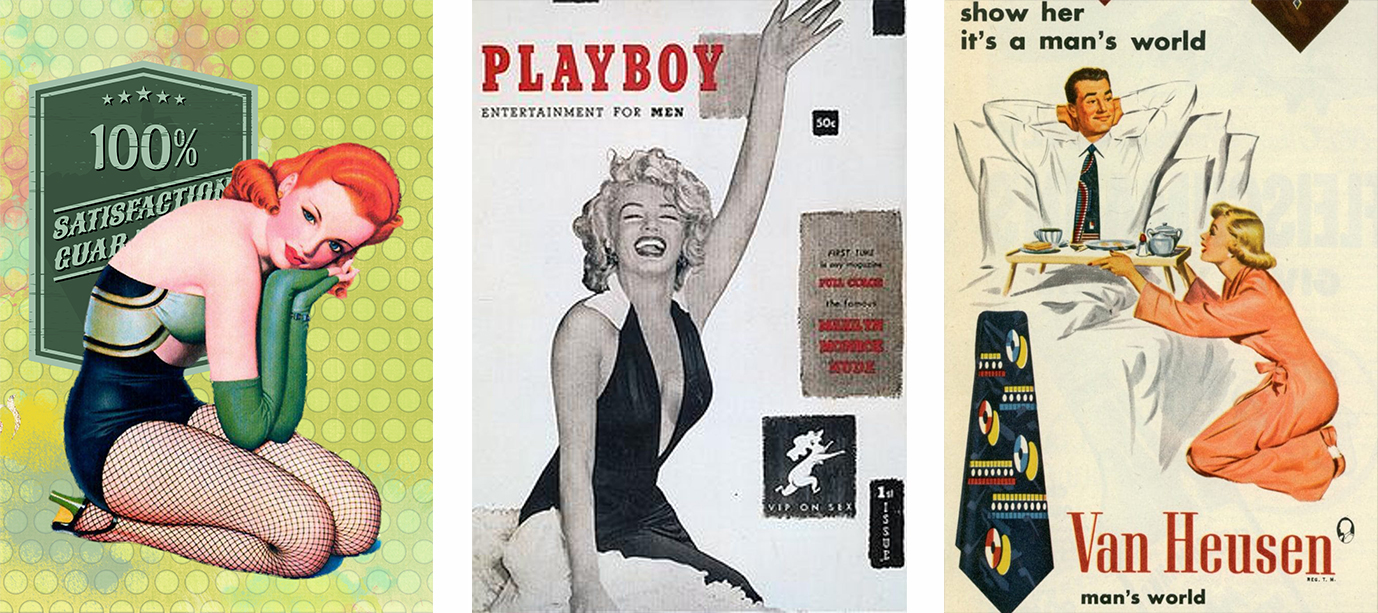 The 60's was characterized by bright colours and LSD-inspired psychedelic graphics, especially in the music industry like rock, and we were beginning to see clever concepts come to light. Designers delved into experimentation, with abstract swirls, curvilinear calligraphy, optical illusions and distortion of reality to visually express the feeling of tripping out on drugs. "Baby boomers" from the 40's, now teenagers, questioned America's materialism, conservative cultural and political norms, creating movements for civil rights of women and blacks. Art became more meaningful and design became more purposeful.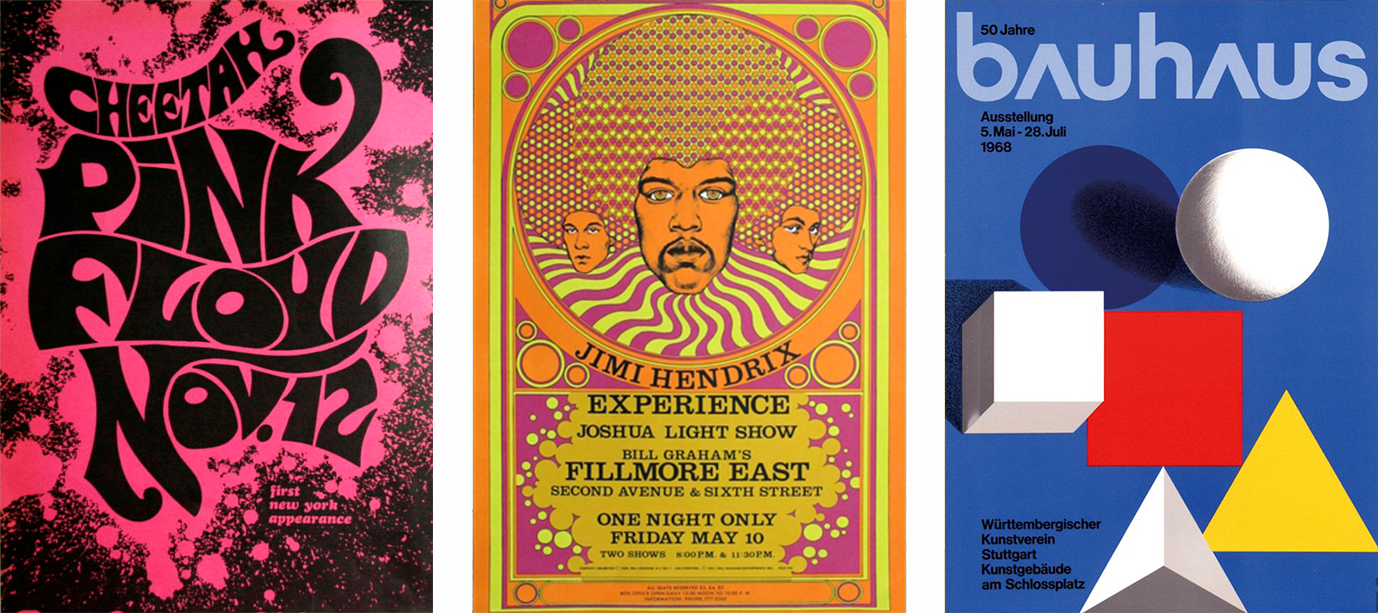 Technology came into the spotlight in the 70's and we seen more colour photography used in design. By the end of the decade, Apple computer ads, which were modern for the time, were popping up everywhere, and we were being told we could have our very own personal computer! Punk, Disco and the hippy movement were just a few of the cultural trends which defined the decade, and their influence spilled over into the world of design.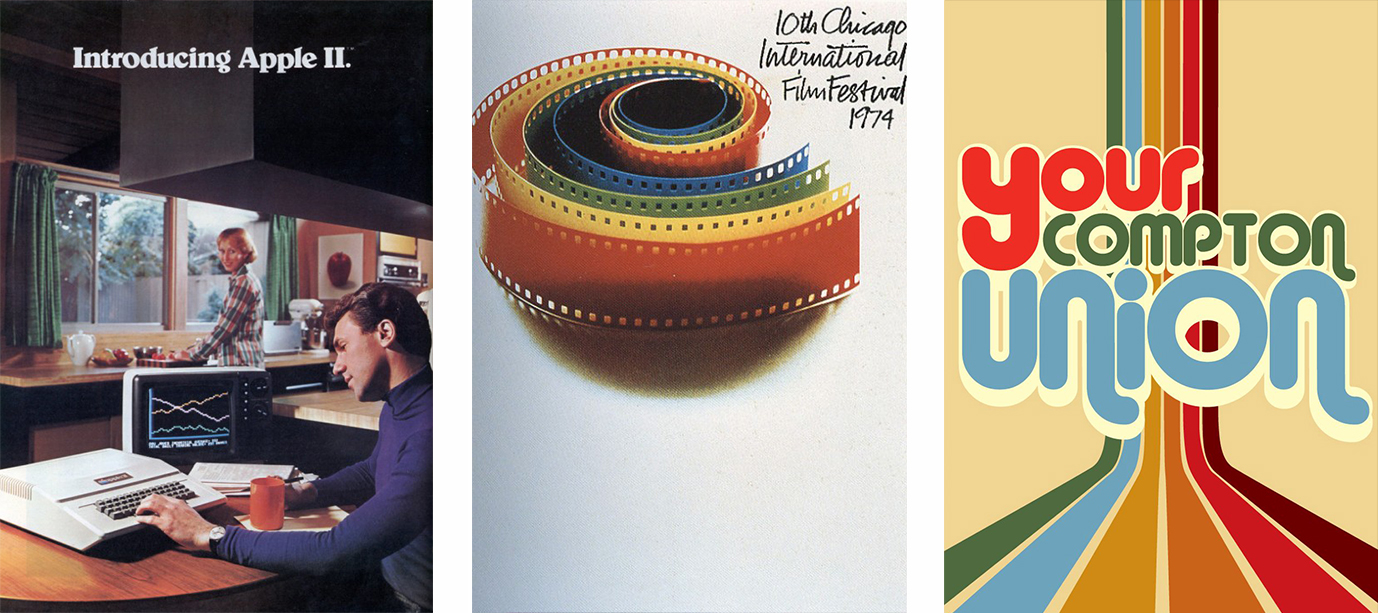 The 80's tried so hard to be cool and had its very own distinct style, with geometric patterns and complementary colour schemes. Punk had a huge influence on pop culture in the early 80's, and an anarchic use of color was used by designers to contrast against newspaper-clipping text and moody silhouetted photography. Anti-establishment British bands like The Smiths and The Clash used traditional design elements like serif typefaces and reimagined them with a neon color palette and jumpy grids, creating engaging, confrontational album art in the process. Nothing was subtle and a notable aspect of 80's design was that it was starting to speak more to women like never before.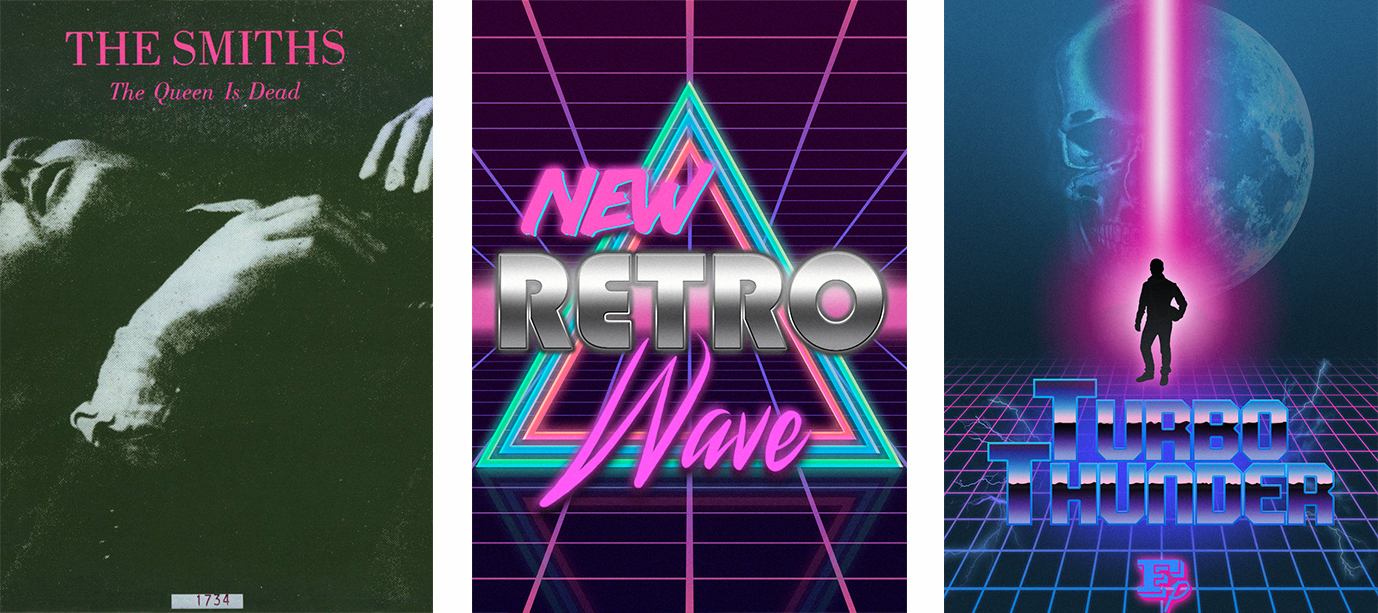 The 90's was a quirky time for design and I personally look back as a 90's baby and find everything funny and embarrassing. The days of creating layouts by hand were disappearing with the rise of accessible digital technology (remember Microsoft Paint?) As a result, layouts took on a more polished, clean appearance but the grunge influence clashed with the clean, tech-forward focus of designers who were embracing digital design wholeheartedly. The end of the decade brought on the minimalism we know today as seen in Calvin Klein ads and Tommy Hilfiger fashion.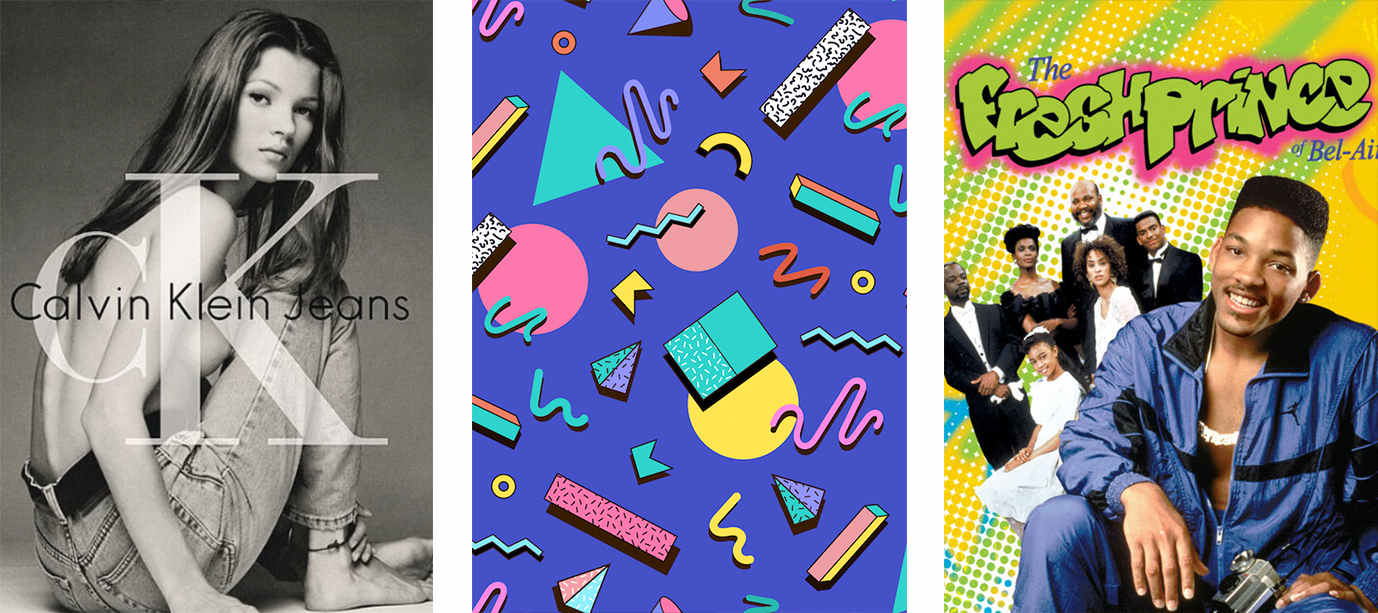 Now with the internet becoming an all-encompassing influence in people's lives, vintage, folk and 'hipster' styles can be seen as reactions to a technology-mad world, even if antique-style textures and vintage logos are used to brand tech products!  Vectorized and digital illustration in Adobe Photoshop & Illustrator have evolved as an art form, and we're starting to see more explicitly tech-inspired design gradually creep back into illustration now too, with low-poly and line art taking their cues from the ever-evolving world of web and app design.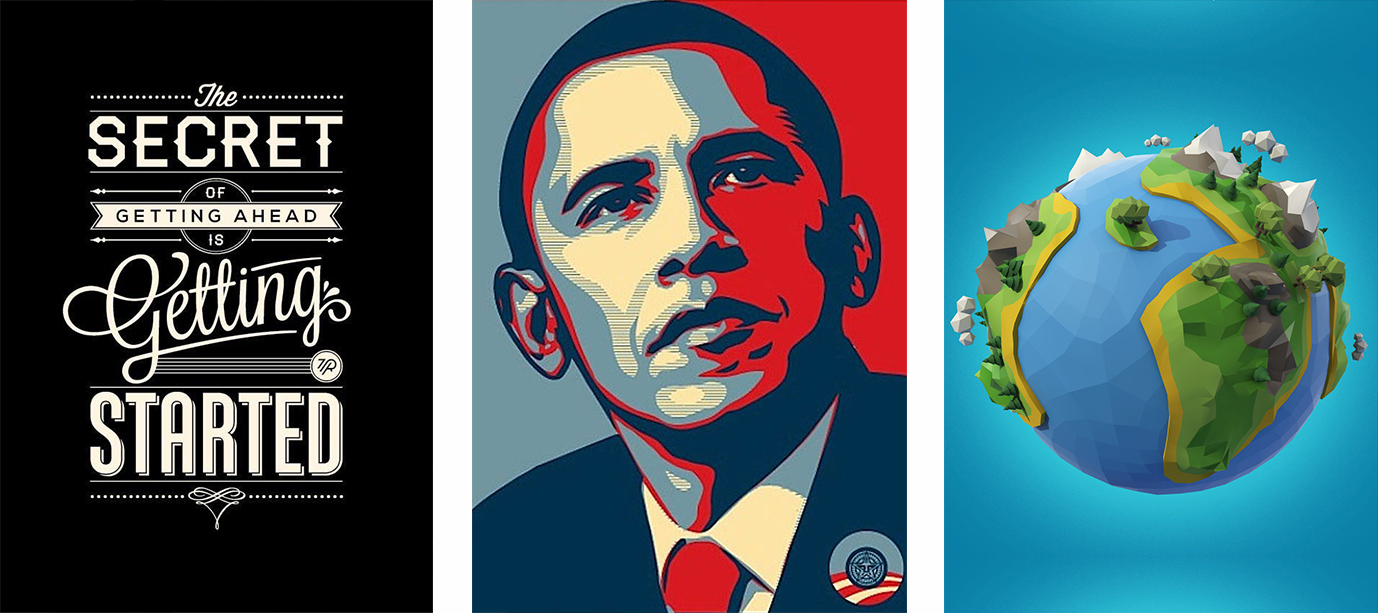 Conclusion
Significant changes in design can be seen from one decade to the next, and even within the space of a year. No designer can truly work in a vacuum, we pull inspiration for our own creative work from the past and everything we see. Change touches our economy, music, politics, fashion and technology so of course it will reflect on our society's design as we thrive towards a more progressive future. What changes do you expect to see as design continues to evolve along with our ever-shifting culture?